Tea with Milk Flavor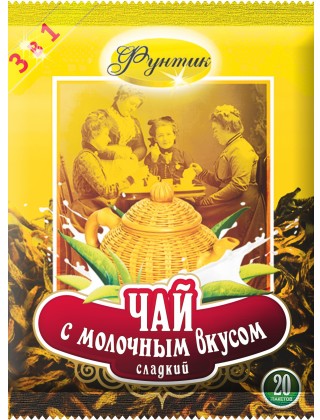 Number of sachets in one pack:
20
Tea with milk and sugar is an antidote for alcohol and medicinal preparation poisoning and just chronic fatigue. This beverage is especially healthy for diseases of kidneys and heart, it is a general tonic in case of exhaustion of the central nervous system, as well as for a quite healthy person, whether an athlete, scientist or clerk. Strong fragrant tea with milk is an outstanding beverage, especially in the morning or after overstresses. Tea with milk perfectly tonifies, refreshes and strengthens the whole body.
We are pleased to offer to you this traditional drink in convenient packaging: our tea with milk is prepared as follows: cover the content of 1 sachet with hot water and allow it to infuse for 1-1.5 minutes. And, presto, you have a fatigue remedy in your hands. An excellent solution for a cold evening.
Tea promotes milk digestion, therefore it can be easier taken by people who suffer from gastrointestinal diseases. hence, people, drink milk, or better yet, drink it with tea!