Kazakh Tea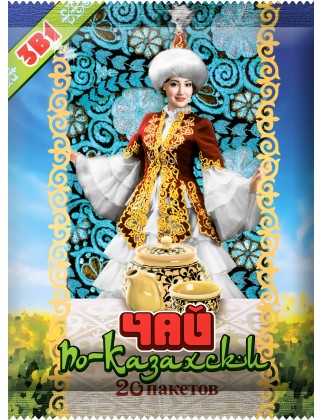 Number of sachets in one pack:
20
«Kazakh Tea» is the best recipe selected from all recipes of traditional drinks of peoples of Central Asia.
Kazakh Tea is a sweet drink with milk based on black and green tea.
Packaging for 1 serving is convenient for health resorts, cafes, restaurants and all enterprises related to public catering.
The tradition of such wonderful drink as tea originated and spread all over the world from China. Exactly there this unique drink with healing properties was discovered. Mongols were among the first to draw out the secret recipe from the Chinese, and from Mongols this recipe spread all over Asia. Interestingly: Asian steppe peoples originally used tea as a ... spice, to their purely meat ration, and this tea was salty. Kazakhs were among the first to create a recipe of sweet tea, but with cream, as it imparted a special mild taste and aroma to tea.
The recipe of this drink refined for centuries, gained a new shape today.
1 sachet of Kazakh Tea accommodates all traditions of free Central Asian steppes.
Kazakh Tea is prepared as follows: cover the content of 1 sachet of Kazakh Tea with 170 g of hot water, stir thoroughly – a tasty nutritious drink is ready for use!