Cocoa drink in box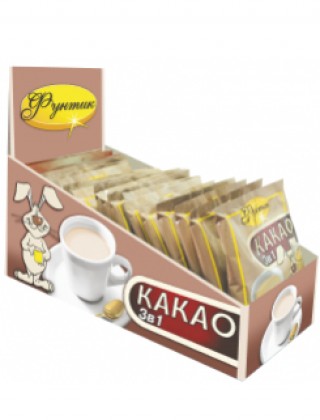 Number of sachets in one pack:
20
Partner T is the manufacturer of an excellent children's drink Funtik 3-in-1 Magic cocoa drink that is a drink known from the childhood, wholesale and retail.
Really wonderful Funtik cocoa drink can be prepared very quickly and enjoy. Funtik cocoa drink boosts human endurance, energizes, improves blood circulation, extends life and helps preserve health. We strive to maintain the quality of our product at a high level, while retaining all healthy properties. This magic charming drink will not allow you to stay indifferent: amazing magic cocoa drink with a delicate and light aroma and taste of vanilla and cream will bestow a fairy tale from the childhood upon you. Convenient sachets for use in any conditions: whether you are at work, in nature, on a visit, or at home — you can feel tender lightness and pleasant taste everywhere!
Cocoa drink normalizes the function of the cardiovascular system and is extremely healthy for older adults.
For cooperation call +7 (861) 265-09-13