Original Kalmyk Tea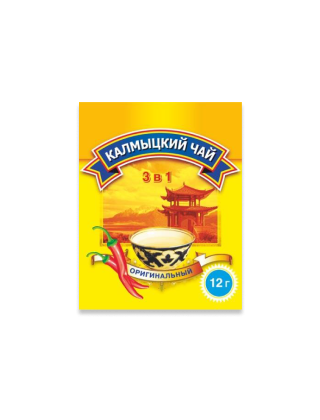 Number of sachets in one pack:
30
The traditional and peppered Kalmyk tea has been known since the earliest times among peoples of Asian steppes. Partner T LLC will be happy to introduce this drink to you.
Out of multiple recipes, technologists of the manufacturer Partner T LLC have thoroughly composed a recipe of Kalmyk tea. To please the most demanding buyer. Kalmyk tea is the favorite winter drink of our regular customers, as it warms up when it is cold. Another unique feature of this tea is that, in addition to allaying thirst, it allays hunger too, as it is a very nutritious product.
We are pleased to offer 2 types of Kalmyk tea to our customers: traditional and with allspice and black pepper added. Believe, the taste is extraordinary, but you will certainly want to try it many other times.
Our Kalmyk tea is prepared as follows: cover the content of 1 sachet of Kalmyk tea with hot water, stir thoroughly – a magic drink is ready!
The tea tradition originates from China. Chinese took great care to prevent everybody from knowing the secret of their favorite drink, but no matter how much they tried to keep it secret: it is known that in the 10th century, Tatar-Mongols attacked the Celestial Empire and drew out the recipe of the tea beverage. From Tatar-Mongols, recipes of the tea beverage spread over all Asian steppes.